Get Started
This course is currently closed
Join senior Tibetan physician Dr Machig from Amdo for his teaching on arthritic disorders from the Tibetan medical perspective. This topic has been a focus of Dr. Machig's work for decades, both at his private practice and at the Malho Tibetan and Mongolian Hospital in Amdo.
His teaching will cover the traditional presentation of three disorders, as taught in chapters 57-59 of the Oral Instruction Tantra, and from his vast personal experience as a clinician.
Drek – Gout (dreg nad, དྲེག་ནད།)
Drumbu – Arthritis (grum bu, གྲུམ་བུ།)
Chuser – Yellow Fluid Disorders (chu ser nad, ཆུ་སེར་ནད།)
Arthritis, Gout, and Chuser Disorders

California and NCCAOM (pending approval)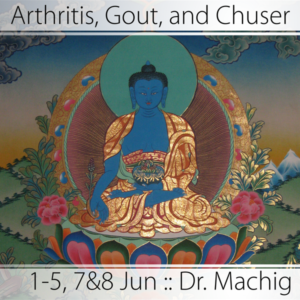 Classes will be held live from Estonia on the following dates, and available via recording soon after the class. It is encouraged to keep up with the progression of the live course and discussion forums.
ARTHRITIS, GOUT, AND CH– USER DISORDERS
1-5 & 7-8 June, 2017
---
UTC 07:00-10:00, 12:00-15:00
US Pacific Time (UTC-7) 12-3am, 5-8am
US Central Time (UTC-5) 2-5am, 7-10am
US Eastern Time (UTC-4) 3-6am, 8am-11pm
UK Time (UTC+1) 8am-11pm, 1-4pm
Central Europe (UTC+2) 9am-12pm, 2-5pm
Eastern Europe (UTC+3) 10am-1pm, 3-6pm
India Time (UTC+5.5) 12:30-3:30pm, 5:30-8:30pm
Singapore Time (UTC+8) 3-6pm, 8-11pm
Australia Eastern Time (UTC+10) 5-8pm, 10pm-1am
This course will be taught in Tibetan language by Dr Machig, a senior doctor from Malho, in Amdo, Tibet. Drukmo Gyal will translate the program into English.
Classes will be offered live, using the Adobe Connect system. Students unable to attend live sessions can access recordings and participate in the course discussions.