Eric Rosenbush practices classical Tibetan, Chinese, and Ayurvedic medicines in India and California. As an instructor with the International Academy of Traditional Tibetan Medicine (IATTM), he teaches Tibetan Medicine and other subjects in many centers around the world.Read More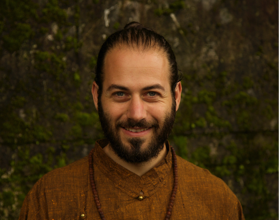 Entrando en el mundo de la Ciencia Tibetana de la Sanación. Este curso online abre la puerta a un sistema antiguo y poderoso de medicina natural, transmitido durante siglos hasta hoy en día en un linaje ininterrumpido.
Estudiaremos el Tantra Raíz, introduciendo los fundamentos de la Medicina Tibetana en un sistema esencial pero profundo. Presentamos, aquí, los principios y las prácticas de Sowa Rigpa, la Ciencia Sanadora, a través de hojas de árboles que crecen en el jardín madala del Buda de la Medicina.